AISLE DECORATION
I think decorating the Aisle is a lovely way to entice your guests to their seats. No ones ever complained about a ceremony being too beautiful surely? Below are a few of the set ups and options I offer, but remember I am an open book and love to build an idea with you thats going to work for your day, so just get in touch if you have some amazing ideas!
RUSTIC
Wooden Logs

Aisle Decor
Includes 4 wooden stumps in varying sizes with 1 hurricane vase and candles with 2 tea lights and holders and greenery for the top.

Prices are £40.00 each
or £70.00 for both sides.

We're All Family,
sit anywhere
Welcome your guests with this lovely wooden crate display, Included: x2 Wooden crates, x2 Wooden boards, large faux flower display x7 mini floral vases and wooden stump

Hire cost: £75.00
Perfect for lighting pathways and adding a touch of romance. 8 hour tea lights will be included.

Pricing: £15 per pair, 8 in total.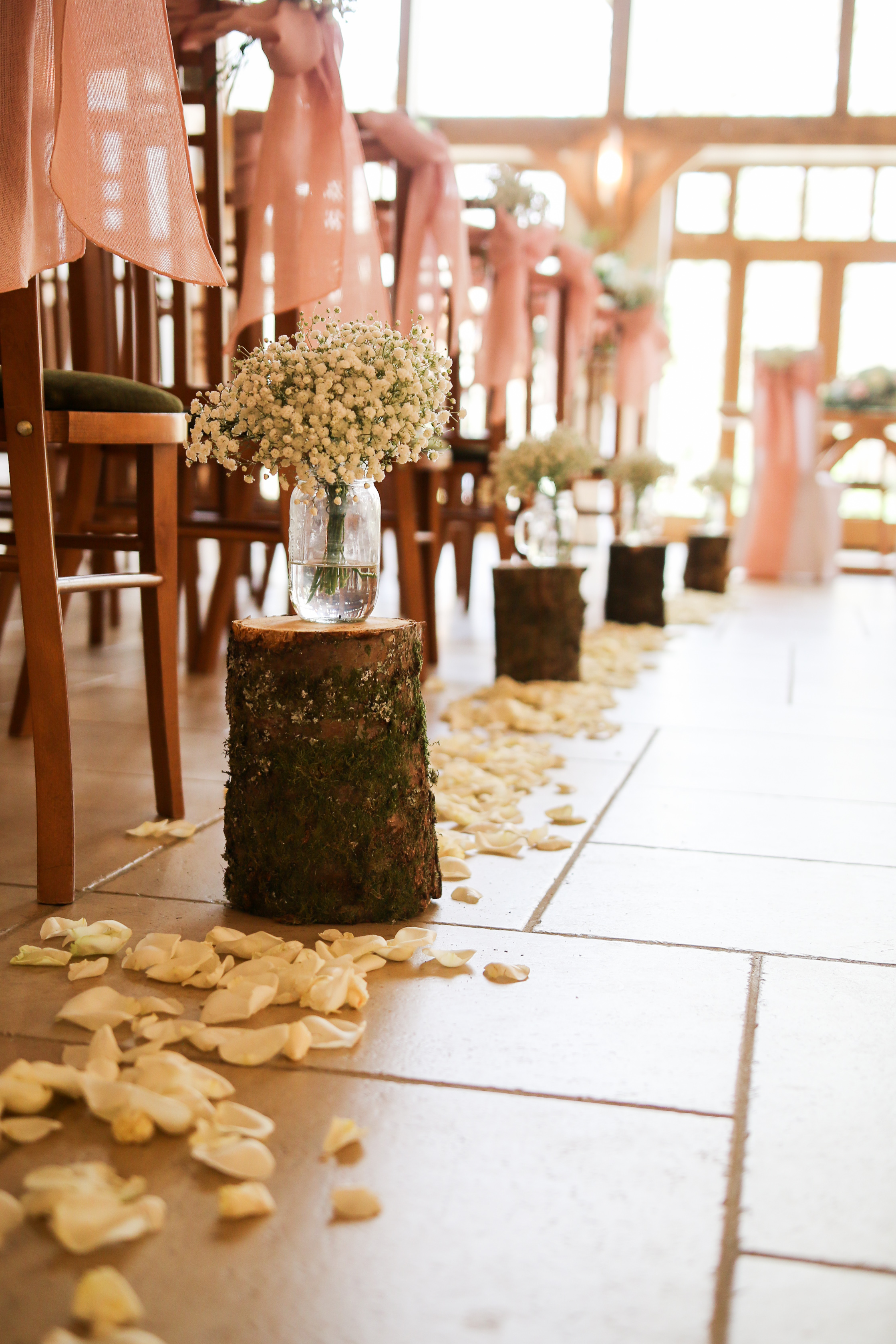 Log stumps With flower
Vases
A beautiful way to add a rustic touch to your aisle, with flower vases included, created in keeping with your wedding colours
These are approx £20.00 each or
£15.00 each with gyp flowers
or greenery. Petals not included in pricing
Nkuku Antique Brass Lanterns
Perfect for the Aisle or just to add a touch of romance to your wedding day.
Available in
Large: £20.00 Each
Medium: £20.00 Each

I currently stock x2 Large
and x2 Small. Candle included
2 Silver Lanterns available for hire with candles.

Pricing:
Large: £15.00 Each
Small: £10.00 each

This is the costing for Lanterns (and candles) only:

Large: £15.00 Each
Medium: £10.00
Small: £5.00 each
terrarium Brass Nkuku Lanterns

Pricing for Just Terrarium Lanterns and Candles Each: £20.00

x2 Available
Greenery and Chiffon Chair details
A beautiful addition to any wedding ceremony. Add foliage bunches tied to your aisle chairs with beautiful white chiffon fabric.
Cost: £10.00 Each
Copper Log Stump Display
Includes 3 wooden stumps on each side, with 3 lanterns on one side, and 2 on the reverse so slightly asymmetrical 1 flower vase with gyp or greenery
(additional flowers may incur an additional cost) included and candles included.
Cost: £70.00 for both of £45.00 for Side with 3 lanterns and £35.00 for side with 2.
Nkuku Brass Terrarium Lantern Displays
Brass Nkuku Terrarium Lantern x2 available for hire with fairy lights or candles and foliage, with little gold trinket detailing.
This also include x2 geometric brass lanterns with fairy lights or candles and foliage.
Pricing: £70.00 for both sides or £40.00 each

I think these would work really well on crates or logs